WHAT IS BASIL SEED?
Basil seed is native to India and grown in many regions around the world. As its name, basil seed is from Thai basil plant and similar in size with chia seed. When the seed soaked in water, it will become gelatinous. The mini seed has the floral flavor and is packed with fiber, vitamins, essential fats, and carbs.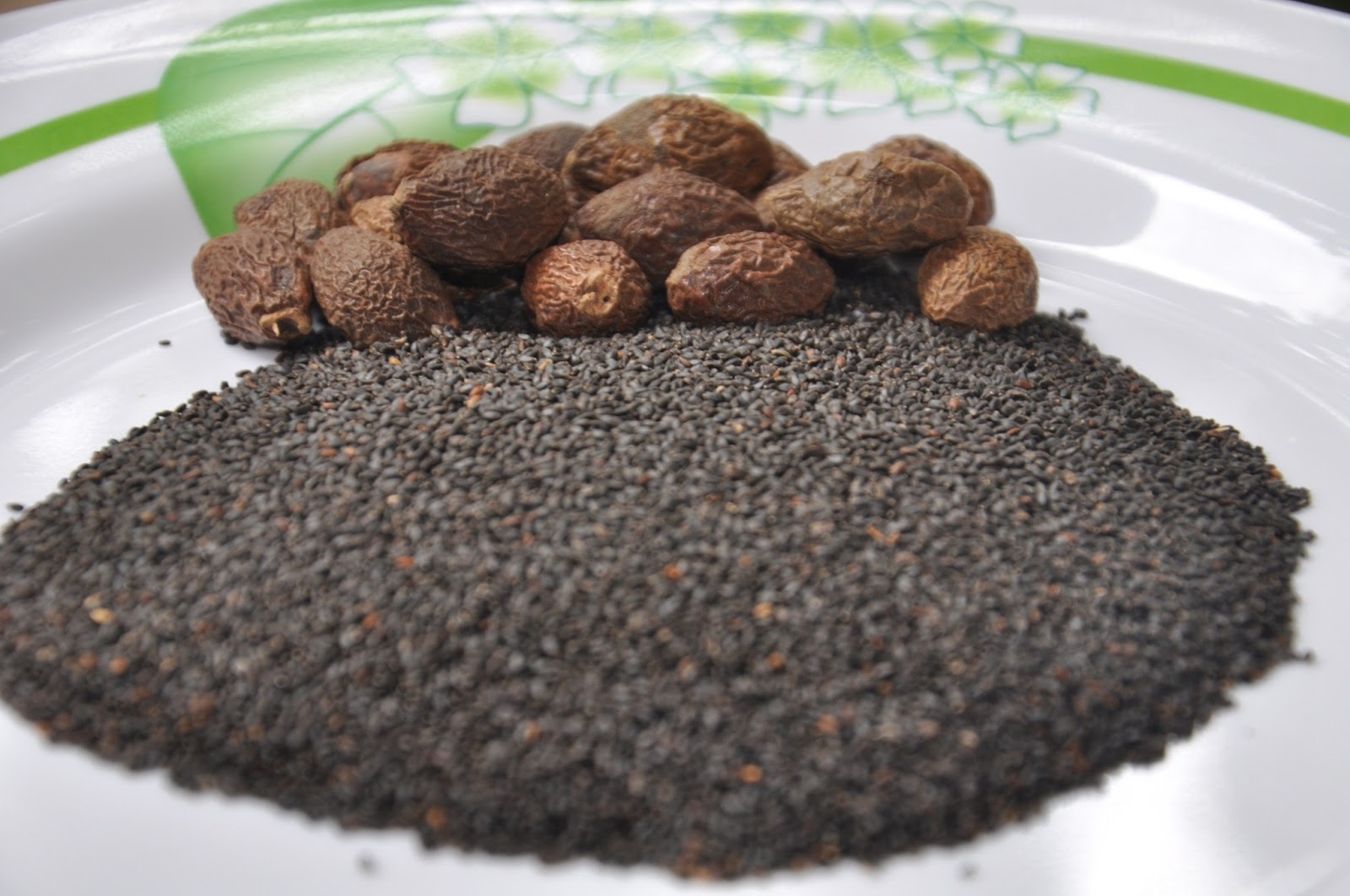 Basil seed is also called tukmaria or sabja seed (Photo: Internet)
One 1 tablespoon of basil seed (about 13 g) contains:
+ Calories: 60 kcal
+ Carbs: 7 g
+ Fiber: 7 g
+ Protein: 2 g
+ Fat: 2.5 g
+ Omega-3 fatty acids: 1,240 mg
WHAT ARE THE DIFFERENCES BETWEEN BASIL SEED AND CHIA SEED?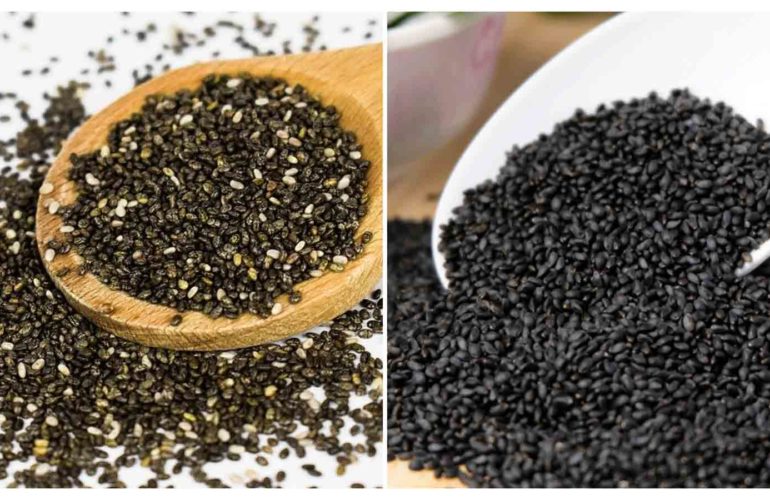 Color is the most noticeable difference between basil seed and chia seed (Photo: Internet)
Color
+ Basil seed is jet black.
+ Chia seed is a mixture of many colors including black, gray and white.
Size and shape
+ Basil seed is larger than chia seed.
+ The shape of basil seed is elliptical while chia seed has oval shape.
How to eat
+ Basil seed can be eaten after soaking in water.
+ Chia seed can be eaten raw or mixed with water.
After soaking with water
+ Basil seed forms a translucent cover outside the seed and do not take much time.
+ Chia seed takes time to absorb and swell up, you may soak it overnight.
HEALTH BENEFITS OF BASIL SEED
Despite its small size, basil seed has many benefits for your health (Photo: Internet)
Detoxifies and refreshes body
Detoxification is the most well-known benefit of basil seed. According to traditional oriental medicine doctors, basil seeds also acts as a natural body coolant. You can mix this seed with other ingredients like lemonades, coconut water, yogurt, fruit juice, etc. to create refreshing drinks.
Enhances the bone health
Thanks the high number of minerals in including iron, potassium, copper, calcium, manganese and magnesium, basil seed help to improve the mineral density of your bone. It also helps to reduce the risk of osteoporosis.
Stabilizes blood sugar
Basil seed has the effect to prevent the increase in blood sugar. When blood sugar does not increase suddenly, people with diabetes will be safe and experience fewer complications.
Helps to lose weight
You can use basil seed for weight management purposes. It contains a lot of fiber that helps to create a feeling of fullness. According to many studies, although low in calories, basil seed is rich in nutrient vitamins, and fatty acids. That is the reason why it helps the body reduce cravings, limit the intake of many foods in the main meal. Therefore, using basil seeds to lose weight is one of the methods that you should apply.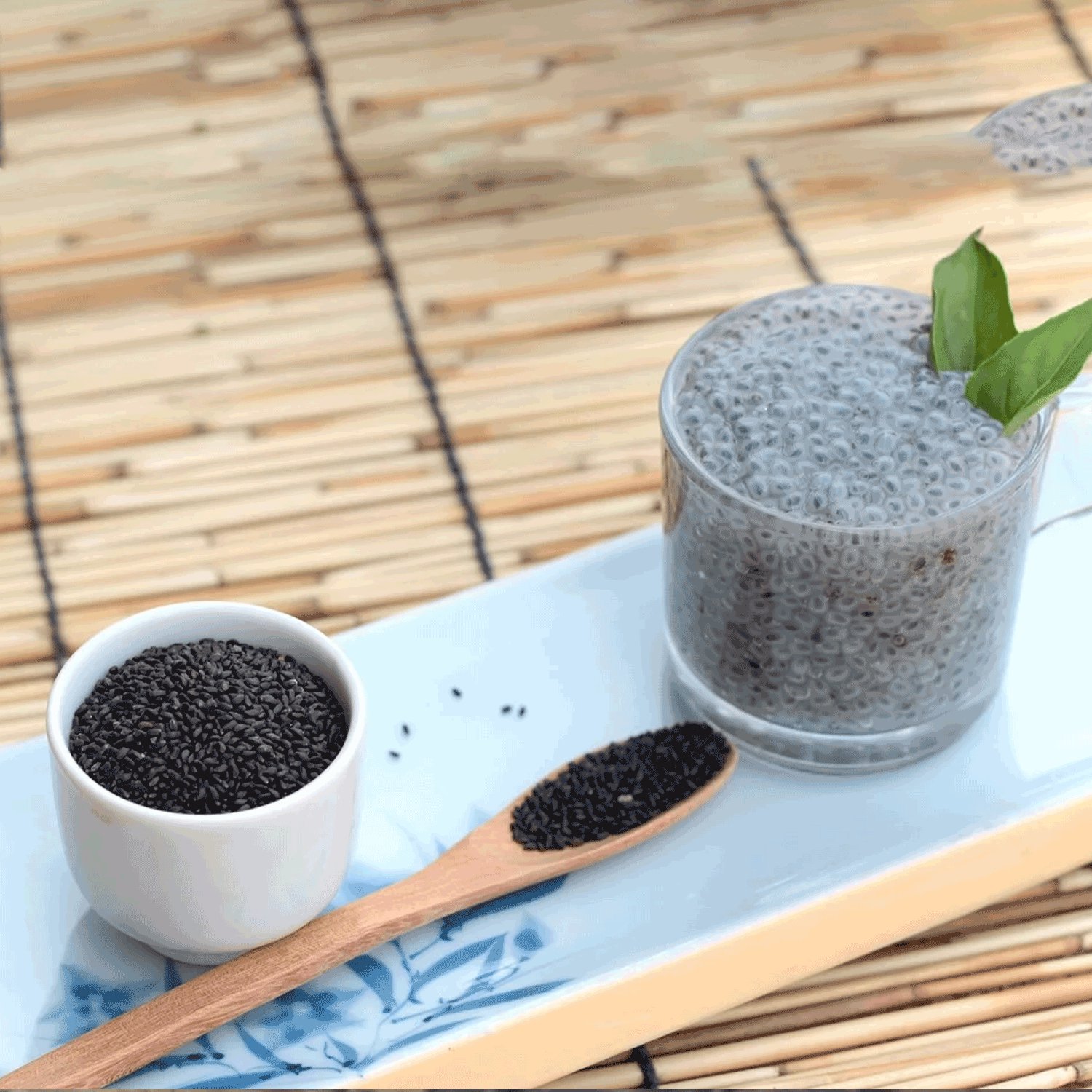 You can add basil seeds to your meals to help you lose weight better (Photo: Internet)
Improves oral health
Some studies show that basil seed also has effective on anti-fungal, antibacterial, and antiviral properties. Therefore, it is also used to solve oral problems such as bad breath, mouth ulcers, tooth decay, etc.
If you are having problems with your teeth, after a short time of using basil seeds, you will be surprised about the wonderful change in your health.
Benefits for skin and hair
Due to the effects on anti-fungal, antibacterial, and anti-viral properties; it is used to treat skin diseases. If you are suffering from these skin diseases including psoriasis or parakeratosis, you can use basil seeds in combination with coconut oil to improve the treatment effect.
The regular use of basil seed drink also helps the body to produce collagen and stimulate the formation of new cells. Thereby, it helps to keep the skin brighter and stronger. Other essential nutrients in basil seeds such as iron, protein, vitamin K also have great effect to your hair.
Increases immunity system
As mentioned above, basil seed contains many antioxidants and essential vitamins. Therefore, basil seeds have the ability to protect cell membranes well, fight inflammation against degeneration of the brain and increase the body's resistance.
Regularizes bowel movement
These little basil seeds can work wonders for reducing the excess acid in stomach, relieving stomach cramps and heartburn. It has a particularly powerful laxative effect and bowel movement due to its extremely high fiber content.
Reduces stress
The high content of antioxidants, including flavonoids, tannins and terpenoids, in basil seed have memory-enhancing effects in some. It is also reported to have the ability to reduce stress, tension, and anxiety, leaving us to feel happier. Another effect of its is calming effect on the body as well as the mind.
Improve the quality of sleep
Basil seed is like a natural sedative that is safe for those with insomnia or nervous tension. Drinking basil seed drink helps to relax yourself and sleep well.
TASTY DRINK FROM BASIL SEED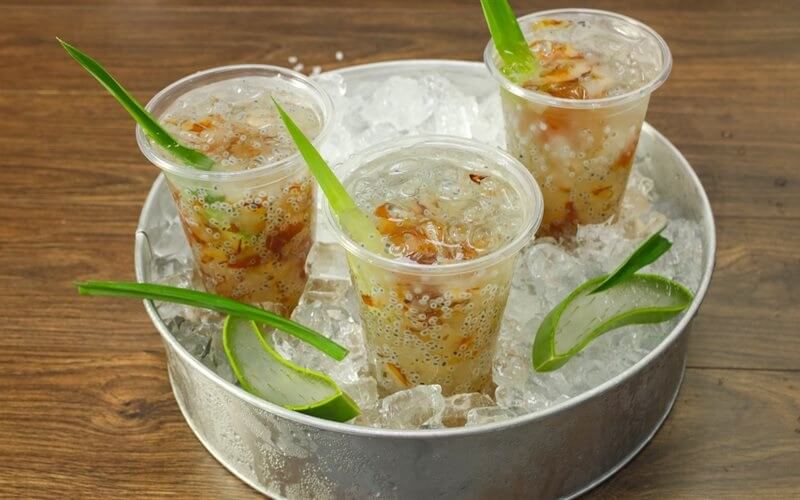 Basil seed can be combined with many other ingredients to make a refreshing drink (Photo: Internet)
Basil seed juice
This is the simplest way which you can make and enjoy at home. You just need to soak the seeds in the water and wait for about 15 minutes. Add sugar and ice and you have a nutritious beverage for hot summer days.
Basil seed with coconut milk
a combination of the greasy taste of milk, coconut milk, the sweet taste of honey, and the cool taste of basil seeds. All those flavors blend together to create a drink that is not delicious, but also provides a lot of nutrients for the body. Try it today, you will fall in love with it.
Basil seed with aloe vera
The drink is made from two simple ingredients including aloe vera and basil seed. In particular, this delightful beverage is classified as a vitamin-rich drink, especially rich in vitamin E and B vitamins. Therefore, this drink is not only refreshing but also very good for health.
Green tea with dried longan and basil seed
The fragrant sweetness of longan combined with basil seed and green tea creates an attractive drink. This is one of the "familiar and strange" dishes from basil seed that you should definitely try once!