CHIA SEED: THE POWER SEED
Chia seeds come from the desert plant Salvia hispanica, a member of the mint family. Chia seeds were one of the main foods in the Aztec diet from 3500 B.C. Later, between 1500 and 900 B.C, it was grown in Mexico by the Teotihuacan and Toltec people. Based on historical records, chia seeds were also used during holidays to sacrifice to the God.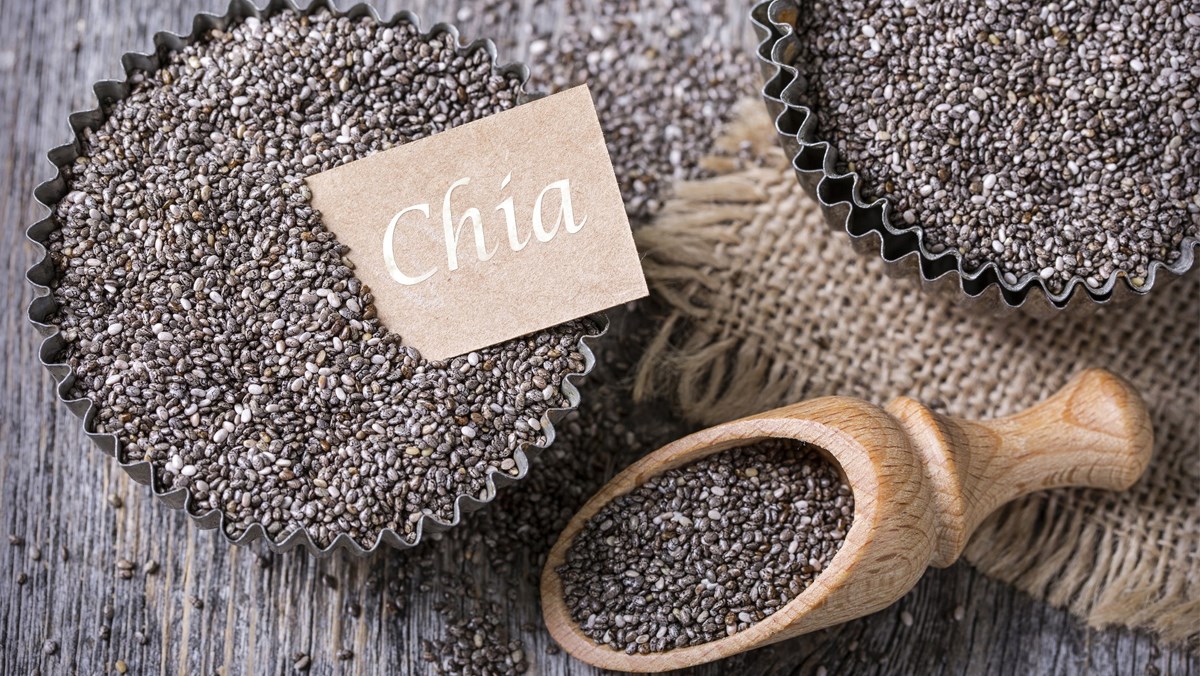 In Mayan language, the word "Chia" means strength (Photo: Intetnet)
Despite their tiny size, chia seeds are one of the most nutritious foods on the planet. Chia seeds are black or white in colour and extolled for their high fiber, protein, and omega-3 fatty acid.
+ Omega-3 is 8 times higher than salmon.
+ Fiber is 25% higher than flax seed.
+ Potassium is 2 times higher than banana.
+ Calcium is 6 times higher than milk
HOW TO USE
When added to liquid, chia seeds plump up several times their size and form a gelatinous coating. They don't have a very strong flavor. So you can mix them with into cooked, bakery, juice drink, soup, etc. All of them are both delicious and healthy.
1. Smoothie

Mix chia seeds with smoothie to create the best taste (Photo: Emme Pham Kitchen)

Smoothie is a popular way to use chia seeds that you can make at home. You can add a tablespoon of chia seeds into fruit or veggie smoothies. It will be a fresh, tasty, and healthy drink in the morning or any time of the day.

Chia seeds can mix some ingredients such as olive oil, honey, lemon juice, veggie, meat, etc. to create the best salad.

You can add chia seeds to your pudding to get a thicker texture. After that, top it up with milk, yogurt, cocoa powder or fresh fruits.

4. Yogurt

Chia seeds are the great topping for yogurt (Photo: Internet)

If you like to add some crunch to your bowl of yogurt, sprinkle two teaspoons of these seeds.

Have you ever try to add some chia seeds to a bowl of oats with milk or coconut milk. It will be a healthy and creamy breakfast to begin a new day.

It's possible to add chia seeds to bread. For example, you can try homemade buckwheat bread with chia seeds. Belive me, it is healthy and flavorful.

You can mix chia seeds, milk, maple syrup, vanilla together in the small bowl. Leave on the counter at room temperature to thicken, about 15 minutes. Once thick, stir together again and add a splash of extra milk if needed.

HEALTH BENEFITS

Chia seeds are the great food for your health (Photo: Internet)

Chia seeds are packed with B vitamins, zinc, magnesium, and iron. Combined, these nutrients play a role in boosting energy.

Chia seeds contain omega 3 that works to protect the heart by lowering blood pressure, bad cholesterol and inflammation!

Drinking chia seeds water or including chia seeds in your daily diet can reduce risk of developing heart disease.

Chia seeds are rich in fiber which can boost your digestion and improve bowel movement.

4. Strengthens bone and teeth

Chia seeds are a great source of calcium, magnesium, and phosphorus. Combined, these nutrients are great for bone and teeth.

5. Stimulates weight loss

Eating chia seeds daily is a good way to lose weight (Photo: Internet)

Is you are looking to lost weight, chia seeds may be the first options you can consider. Chia seeds are rich in fiber that help you fell full longer periods of time. Chia seeds are also rich in protein, which also has been found to promote satiety and weight loss.

6. Helps to prevent cancer

Per as a scientific research, chia seeds are a good source of alpha-linoleic acid, which can help to prevent breast cancer. Chia seeds are also a source of powerful antioxidants that fight the production of free radicals, which can damage cell molecules and contribute to aging and developing diseases like cancer.

Chia seeds have a soothing and calming effect on the mind. The Omega 3 and 6 fatty acids in Chia seeds provide benefits for the nervous system, improving mood, concentration, and depression.